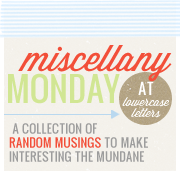 I'm joining in with Miscellany Monday today!
1. Weekend Recap
We had a great weekend! We spent all weekend pretty much with our family. Saturday we celebrated my sisters and my niece's birthday at my parents house. We had an amazing lunch and cake. Sunday, my Aunt was layed to rest. She passed away on the 17th. Although the situation that brought us together wasn't the best, we were able to see some of our family that we haven't seen in months. We had a great lunch with the family.
2. Grandma El's
If you have a baby this stuff is a must! I absolutely love it, and it's made from all natural and organic ingredients! And the scent is also great! Luci has never had a diaper rash and I give some of the credit to Grandma El's!
3. Can't get enough of these!
Luci's smiles! They are very hard to capture on camera, but she gives us these all the time and WE can't get enough!
4. Spinach Addiction
I'm in love with organic baby spinach! I think I could eat this stuff on everything. I eat it as a salad, on my sandwiches, and also by itself. I've even gotten Joey and the girls eating it! Luke, well...not so much!
5. Cleaning for the cleaning lady..
Yes, that's what my day consists of today. Cleaning the house, or should I say picking up the house, so the cleaning lady can come in tomorrow and clean this house! Although I'm here all day, it is quite hard to get everything clean in between feeding, changing, and entertaining a 2 month old!