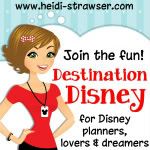 Yeah!! It's Destination Disney in Color once again, and todays color is silver. Doing this link up is definitely going to make me color conscience while I'm taking photos on our next trip! I'm having so much fun going back through all our vacation photos on the computer.
During the Christmas season you can find many of the costumes, and floats adorned with silver accents. Like the float above and Cinderella's gown below.
And at one of our most favorite parks you'll find this huge silver ball! Which is, of course, spaceship earth!


Hope you enjoyed todays Destination Disney in Color!!